Let us handle your workplace wellness
We curate the perfect seasonal fruit + healthy snack variety for your team.
Our plans start as low as $75 per week.
No weekly order hassles
No contracts
Hand delivered
Stocked directly into designated area
We customize your delivery to make sure you and your team get the right selection of seasonal fruit and snacks.
We stock your breakroom or customer lounge with fresh fruit and snacks on a delivery schedule that works for you.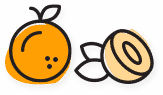 Your team gets to enjoy fresh, healthy snacks, and you get to enjoy the freedom of no long-term contracts.
You are busy, and you know, alas, that coffee doesn't equal a nutritious snack.