Let us handle your workplace wellness
We curate the perfect seasonal fruit + healthy snack variety for your team.
Our plans start as low as $75 per week.
No weekly order hassles
No contracts
Hand delivered
Stocked directly into designated area
We customize your delivery to make sure you and your team get the right selection of seasonal fruit and snacks.
We stock your breakroom or customer lounge with fresh fruit and snacks on a delivery schedule that works for you.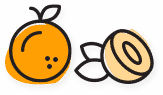 Your team gets to enjoy fresh, healthy snacks, and you get to enjoy the freedom of no long-term contracts.
You are busy, and you know, alas, that coffee doesn't equal a nutritious snack.
Fresh food delivery to the workplace is a great time-saving option, but you need healthy food delivered to your workplace without a hassle. Happy employees=happy workplace, so enter ThirdLeaf NW, Seattle's great food delivery service. We can have food delivered to your office for employees or customers. We'll bring this healthy food you crave right to your office in the space you provide. It's a healthy win-win for everyone!
Some of what ThirdLeaf NW includes:
A small apple refrigerator to keep apples crisp and fresh each week
Other colorful and healthy seasonal fruit
Fresh food delivered and stocked directly into your kitchen
No weekly contracts required
Free trial to check out ThirdLeaf NW
Donation to food banks or charities of any leftover fruit
Because we don't require weekly contracts, you don't need to be afraid of getting locked into anything! We know you'll love our service, so if you're undecided, call us about our free trial.
Meal Delivery in Seattle
ThirdLeaf NW is happy to help with your workplace wellness. We offer healthy food delivery with the perfect snack mix you want. Our plans begin at just $48/week for a variety of seasonal fresh fruit and/or healthy snacks. And what's best is we don't lock you into any weekly contracts, and we even offer a free trial to let you check out our meal delivery services. It's really just four easy steps!
You call. We customize your order and desired schedule
We show up! We hand deliver and stock your space with snacks
You enjoy fresh, healthy snacks
Repeat as often as you like—no contracts required..
Food Delivered in Seattle
Not just any food delivery service in Seattle will make your team healthier! ThirdLeaf NW is the health and wellness food delivery company! Call (206) 682-1268 for meal delivery directly to your workplace in Seattle. You can have food hand-delivered in Seattle by a friendly team who will stock your fruit and snacks in a designated spot. Call today for more info or to set up a free trial! Call us at the number above or fill in the contact form here on our website. You can also email us at [email protected].
Just a few of the Seattle companies who are enjoying our office food deliveries.
Nordstrom
Smartsheet
Iora Primary Care
Conover Insurance
Join our growing list of companies who are helping their employees have healthier workplace snack choices with healthy meal delivery.